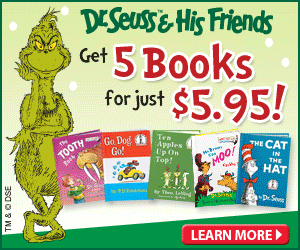 Here's a great deal to start a Dr. Seuss collection.  Right now you can the following  5 books for only $5.95 shipped to your house:
Sign up today and they will mail you a Free 2013 Dr Seuss Wall Calendar too.
Plus you can choose to add two Bonus Books for only $4.99 additional.  Those would be One Fish, Two Fish, Red Fish, Blue Fish and the Dr Seuss ABC's.  You don't have to pick these up though.
The best thing about this deal is there is NO OBLIGATION to buy anything else.  This is different then any other Dr. Seuss deal I've seen before.